Youngblood is an American feature film directed by Peter Markle. It was released in 1986 and stars Rob Lowe, Cynthia Gibb and Patrick Swayze.
Dean Youngblood, a teenage farmboy and amateur hockey player, is recruited by the Hamilton Mustangs in a Canadian junior hockey league. At first, the team treats him poorly because he's small and lacks toughness. But they have a change of heart once they see him play and score goals.
After getting embarrassed by the other teams' goons, and seeing his friend and teammate Derek Sutton put in a hospital because of it, Dean decides to give up on junior hockey. But with the support of his brother, his father, and the coach's daughter with which he's romantically involved, Dean gets back out on the ice and overcomes his fears.
Production
Edit
Much of the film was shot in Ontario, Canada.

For a complete cast and crew listing, see Youngblood/credits.
Soundtrack
Edit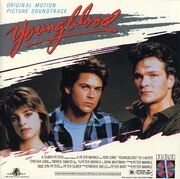 A soundtrack was released for the film. The track list for the soundtrack is as follows:
"Opening Score" — William Orbit
"Talk Me Into It" — Glenn Jones
"Something Real" — Mr. Mister
"I'm a Real Man" — John Hiatt
"Cut You Down To Size" — Starship
"Footsteps" — Nick Gilder
"Soldier of Fortune" — Marc Jordan
"Winning Is Everything" — Autograph
Youngblood premiered in the United States on January 31, 1986 and in other countries throughout the year. It is currently available on DVD but not yet on Blu-ray.
Youngblood had mediocre reviews.
External Links
Edit