Slap Shot is an American feature film directed by George Roy Hill. It was released in 1977 and stars Paul Newman and Strother Martin.
When the mill closes in Charlestown putting many of the citizens out of work, the losing minor league hockey team, the Charlestown Chiefs in the Federal League, fear the impact of the towns financial troubles. Player-coach Reggie Dunlop decides to do whatever it takes to keep the team alive.
Reggie lies to his players about a potential buyer for the team, and makes them and the opposing players crazy so that they'll fight. The fighting draws in the fans, so Reggie continues to push his team to the limit.
Production
Edit
Screenwriter Nancy Dowd loosely based the story for the film on the Johnstown Jets, a minor league hockey team for which her brother, Ned Dowd, played. Ned would later play the role of Ogie Ogilthorpe in the film.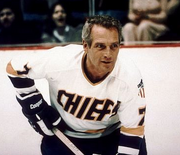 For a complete cast and crew listing, see Slap Shot/credits.
Soundtrack
Edit
While there was no actual soundtrack released for the film, it did feature numerous popular songs of the 1970's.
"Sorry Seems to Be the Hardest Word" — Elton John
"Rhiannon" — Fleetwood Mac
"Say That You Love Me" — Fleetwood Mac
"A Little Bit South of Saskatoon" — Sonny James
"You Make Me Feel Like Dancing" — Leo Sayer
Slap Shot premiered in the United States on February 25, 1977 and in many other countries later that year. There have also been a number of VHS and DVD releases since then, the most recent being the 25th Anniversary Edition released on March 26, 2002.
With the films violence and vulgarity, Slap Shot initially received mediocre reviews upon it's release in 1977. But over the years, people grew to love it more. Today it's known for being one of the best sports movies of all time.
External Links
Edit